Go!Drop® for Meat Alternative Burgers
A smart fat solution to achieve better-tasting, healthier plant-based burgers
Fat is key to a great eating experience of a plant-based burger. In a meat patty, slow-melting animal fats create the juiciness and deliver the aroma that people love. With Go!Drop® smart fat solution, an innovative fat technology from our co-developer partner CUBIQ FOODS, mimicking that juicy, aromatic and flavorful burger can be more closely achieved than with traditional fat solutions. Not only that, but the nutritional profile can be improved with reduced saturated fats, reduced total fat and fewer calories.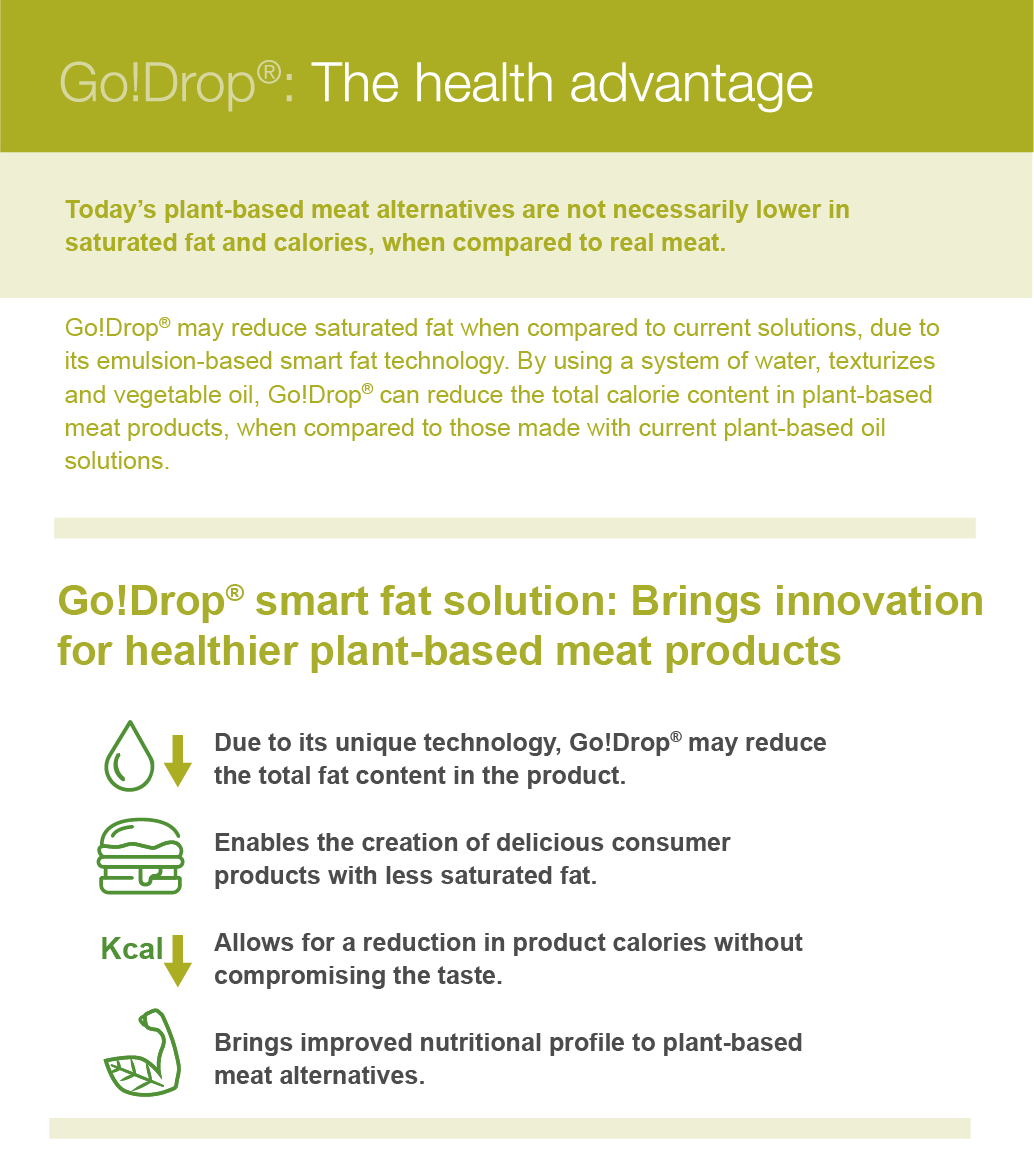 Crafting your next plant-based product winner
Cargill has many of the building blocks in place to create on-trend category defining plant-based products. Our portfolio of plant-based protein ingredients, texturizers, and fats and oils, as well as our expertise in the plant-based category, can help you improve the nutritional profile or eating experience of a product or we can work with you on your new product development.
By embracing new technologies, harnessing our full ingredient toolbox, and leveraging our global application knowledge, we're poised to accelerate the development of the next-generation plant-based products and cementing our role as an innovator in the plant-based category.

*Go!Drop® Licensed Trademark of Cubiq Foods S.L.
Meet our smart fat solution for meat alternatives
Developed in partnership with CUBIQ FOODS, Go!Drop® Smart Fat Solution is a proprietary smart fat technology that is a structured emulsion of plant-based oil stabilized with vegan ingredients that can mimic animal fat attributes in plant-based burgers. Read more about this exciting new solution!
Building a Better Plant-based Burger
Cargill's latest prototype serves up a mouth-watering taste of what's next for plant-based meat alternatives, starting with a groundbreaking new approach to fats and oils.
Download