Novel Fat Solutions
By embracing new technologies, harnessing our full ingredient toolbox, and leveraging our global application knowledge, we're poised to accelerate the development of the next generation of plant-based products and cementing our role as a fats and oils leader in the category.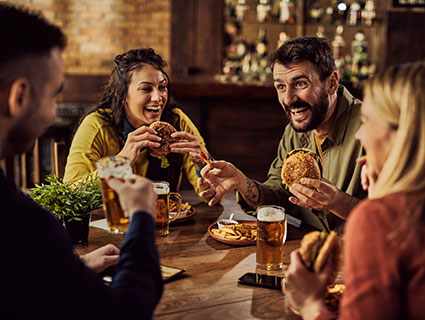 Go!Drop® for Meat Alternative Burgers
Go!Drop® is a smart fat solution to achieve better-tasting, healthier plant-based burgers that mimicks the traditional juicy, aromatic and flavorful meat-based burger.
CUBIQ FOODS: Partnering with a food tech innovator
Cargill is focused on investing strategically to ensure it meets the growing demands of a varied consumer market – in terms of taste, texture, health and nutrition, shelf-life, cost in application, and label-friendliness in plant-based alternatives.
As part of this strategy, Cargill and Spanish start-up CUBIQ FOODS entered product co-development and commercial go to market agreements in 2022. The strategic partnership is aimed at accelerating wide-scale commercialization of CUBIQ FOOD's innovative fat technologies.
CUBIQ's technologies can be used across multiple applications. This could equip customers with solutions to develop plant-based alternative foods with less fat content, less saturated fat and fewer calories compared to products made with animal fats and tropical oils.
By partnering with Cargill, CUBIQ FOODS is now able to bring this technology to a wider group of customers and benefiting from our expertise in plant-based end applications, and value in taking these solutions to the plant-based meat alternatives market.
Go!Drop®: Inside the technology
CUBIQ FOODS' Go!Drop® replicates animal fat in terms of visual appearance, mouthfeel, and bite. This makes it particularly relevant in the plant-based meat alternatives space.
Go!Drop® smart fat solution is a specialized technology of an emulsion of vegetable oils and water, which is stabilized using plant-based ingredients. Remarkably, this neutral tasting system delivers a wealth of organoleptic properties that result in improved sensory properties when compared to plant-based meat alternatives that solely use plant-based fats and oils.
This sensory enhancement is achieved through the better water management of the emulsion, by effectively ensuring that the fat stays in the burger while cooking, so the juiciness naturally functions to enhance the mouthfeel and sensory experience.
Since the binding system composition can be tweaked to match the existing binders that are required in a plant-based alternative to meat recipe anyway, it means that no lengthening of the ingredient list is required.
Some Cargill products are only approved for use in certain geographies, end uses, and/or at certain usage levels. It is the customer's responsibility to determine, for a particular geography, that (i) the Cargill product, its use and usage levels, (ii) the customer's product and its use, and (iii) any claims made about the customer's product, all comply with applicable laws and regulations.