RSPO-Certified Palm Oil
Cargill offers different levels of RSPO* sustainable palm oil that fit your brand, application and operational needs.
Expanded sustainable palm oil options
Cargill has offered our customers RSPO-certified palm oil at the mass balanced level for more than a decade. As sustainable practices expand and consumer expectations evolve, we recognized the need to provide a higher level of sustainable palm oil to our customers. Now, we can provide RSPO segregated palm oil to the market.
Distinctions of Cargill's RSPO segregated palm oil offering:
A traceable supply chain to help you meet your sustainability commitments.
A full range of products to meet the needs of a variety of application and operational needs.
Technical service scientists to assist with product sampling and trialing in your operations, as well as provide guidance on new product formulation.
Supply chain and trading experts who manage the supply to ensure reliable supply.
*Roundtable for Sustainable Palm Oil. For more information about the RSPO, go to their web page here.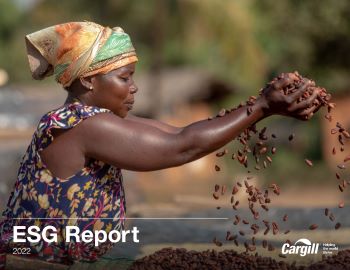 We are proud to share Cargill's global Environmental, Social, and Governance (ESG) report, summarizing our ESG programs and performance across our company for fiscal year 2022. Learn more about how we continued to evolve our sustainable palm oil supply chain to support Cargill's global sustainability targets in our priority areas of Climate, Land and Water, and People.