Climate Change
Reducing our impact and preparing for a changing climate
A changing climate fueled by rising global temperatures and greenhouse gas emissions has become one of the defining issues of our era.
Without bold and decisive actions by all involved in the production of food, left unchecked, climate change will destabilize the food system. Cargill is committed. Taking action isn't optional and we've set a bold path forward to ensure our ability to operate sustainably and enable our purpose. Our actions are aligned with the Paris Climate agreement to limit global warming to below 2 degrees Celsius, which include:
Supporting strong global action. Our goals are approved by the Science Based Targets initiative (SBTi), the globally accepted standard for GHG reduction goals. We're advocating for policy and legislation that make the adoption of sustainable agriculture practices economically viable for farmers.
Reducing emissions across our operations. We've set targets to reduce our Scope 1 and 2 greenhouse emissions – those caused directly and indirectly by our operations – by 10% by 2025, measured against a 2017 baseline. That means steps like pursuing emissions-reducing technology and investing in renewable energy to power our operations or offset our emissions.
Reducing the impact of our supply chain. We're also focused on reducing our Scope 3 emissions – those produced from sources in our extended supply chain – by 30% per ton of product by 2030. This means working with farmers on projects like improving soil health and reducing emissions across our North American beef supply chain.
Developing sustainable solutions for customers. Our customers want to reduce emissions in their supply chains. Their customers want to eat food that's sustainably produced. And we're developing solutions like feed that reduces the greenhouse gas impacts of beef, and transportation for bulk cargo that produces fewer emissions.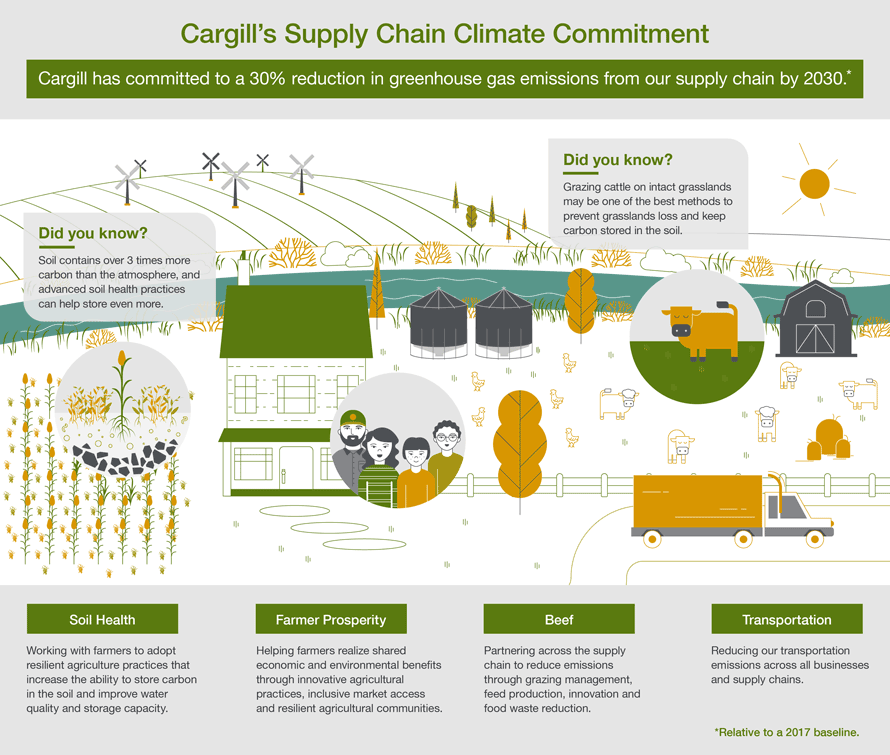 News Highlights