Land Use
Protecting forests and promoting sustainable agriculture
Cargill promotes balanced land use and sustainable agriculture to protect forests. We are committed to using our market presence to mitigate agriculture as a driver of deforestation.
Forests are a source of food, water, fuel, medicine and they support the livelihoods of billions of people. Forests are also critical to managing impact of agriculture on climate. Yet many forests are at risk from deforestation and unsustainable land use.
Our deforestation pledge
We endorsed the New York Declaration on Forests in 2014, committing to help end deforestation across our supply chains. We pledged to reduce and eventually end deforestation across our entire agricultural supply chain, with the goal of halving it by 2020 and ending it by 2030. Learn more about our deforestation efforts.
Palm oil
We are working toward a 100 percent transparent, traceable and sustainable palm supply chain by 2020. Our commitment includes no deforestation of high conservation value (HCV) lands or high carbon stock (HCS) areas, no development on peat, and no exploitation of rights of indigenous peoples and local communities. We will work to ensure that all palm oil and palm products that Cargill produces, trades or processes are in line with these commitments. Learn more about how we are advancing sustainable palm oil.
Soy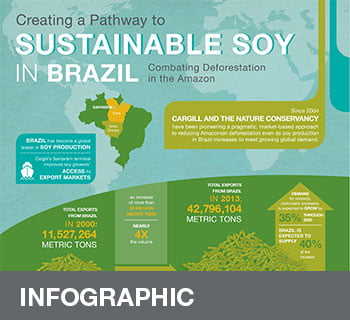 In 2006, Cargill worked with industry, government and NGO partners to put in place the Soy Moratorium in Brazil. As part of this agreement, we committed not to purchase from or offer financing to farmers who grow soy on lands in the Amazon biome that were deforested after that date. The moratorium has since been adapted to align with Brazil's new Forest Code and extended indefinitely. Today, we are working with The Nature Conservancy to help farmers comply with the Brazilian Forest Code, enter the rural environmental registry (or CAR) and adopt sustainable practices.
Our partners and actions
We work with global partners to develop and implement scalable solutions to protect forests, including:
The Nature Conservancy (TNC): Since 2004, we've worked with TNC in Brazil to protect forests by ensuring the soy we purchase does not come from newly deforested lands. We pioneered a satellite-based land monitoring program and work directly with farmers to promote and reward sustainable practices. Our efforts contributed to an 80 percent decline in deforestation in the Amazon in the last decade.
The partnership between The Nature Conservancy and Cargill has yielded significant results – hear from Mark Tercek, TNC CEO, how it works.
Proforest and The Forest Trust (TFT): In palm oil, we work with Proforest and TFT to advance our no-deforestation commitment. We began working with TFT in 2013 to map our palm oil supply chain and we joined TFT in 2014. Our work with Proforest includes analyzing land use on our suppliers' plantations.
World Resources Institute (WRI): We're working with WRI to monitor and manage deforestation and water risk across our supply chains. That work includes using WRI's Global Forest Watch to accelerate implementation of our no-deforestation commitments starting with soy production in Paraguay and palm oil production in Indonesia. In Indonesia, our work with WRI includes building online monitoring systems that combine on-the-ground field work by Proforest, TFT and others.
World Wildlife Fund (WWF): We work with WWF to define better management practices in the trade and production of key commodities, including palm oil and beef. In partnership with WWF, we are working to define better management practices in the trade and production of key commodities. We have also partnered with WWF to create sustainable beef and palm oil supply chains.
Advancing conservation and agriculture
Forests are critical in mitigating agriculture's impact on climate change. We promote balanced land use and sustainable agriculture to protect forests. We are developing an approach to address degraded land and using cutting-edge technology, including drones and satellites to monitor deforestation and improve land use.