Land Use
Protecting forests and promoting sustainable agriculture
We believe that sustainability values and agricultural development can simultaneously thrive, and we are committed to finding solutions to protect our planet in ways that are economically viable for farmers.
We are transforming our supply chains to be deforestation-free, in alignment with the New York Declaration on Forests. We won't wait until 2030 to deliver – we are taking action to transform our supply chains today.
Cargill is working to eliminate deforestation from key supply chains:
Our partners
We collaborate with global partners to develop and implement scalable solutions to protect forests, mitigate agriculture's impact on climate change and promote sustainable development. Listed below are examples of our work with key partners.
Earthworm (formerly The Forest Trust) and Proforest – Cargill works with Earthworm and Proforest to advance our no-deforestation commitments within our palm oil supply chain, including analyzing land use on our suppliers' plantations, engaging suppliers to address gaps and piloting a transparency framework for reporting progress. Learn more
The Nature Conservancy – Cargill and The Nature Conservancy partner to balance economic opportunity and conservation of natural resources. We've been working together since 1983 on a variety of fronts, driving positive change to improve environmental sustainability and productivity in farms and ranches of all sizes and enabling more effective implementation of deforestation commitments. Learn more.
World Resources Institute – Cargill and World Resources Institute (WRI) collaborate globally to reduce deforestation by identifying risks and accelerating implementation of Cargill's no-deforestation commitments. Cargill is a member of the WRI Global Forest Watch Partnership; together we are working to monitor and manage deforestation and improve transparency. Learn more.
World Wildlife Fund – Cargill and the World Wildlife Fund (WWF) have partnered since 2005 to define better management practices in the trade and production of key commodities, conserve natural resources, protect biodiversity and advance sustainability, which includes reducing deforestation. Learn more.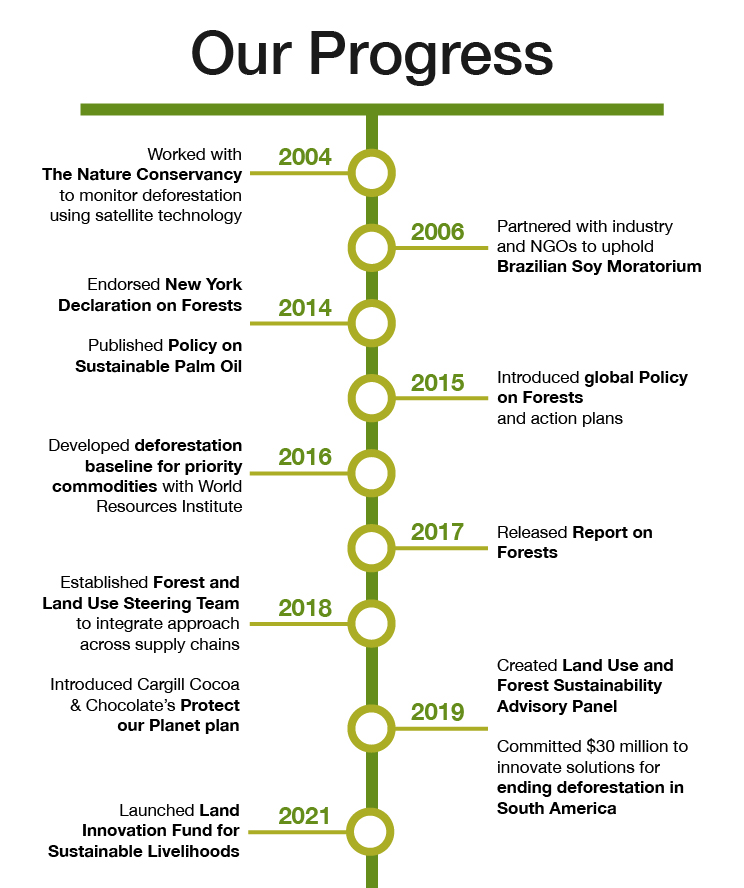 Soil health
Our support for sustainable agricultural practices includes use of regenerative agricultural practices to improve soil health. Enhancing soil health has many interrelated benefits, including reducing greenhouse gas emissions, improving water quality, increasing drought resilience, enhancing farmer prosperity and helping to feed a growing global population. Cargill supports investments in soil health best practice adoption as we believe it leads to long term farmer prosperity and resilience while lessening agriculture's impact on the environment and improving water quality.
We are partnering with the Soil Health Institute to study the economic benefits of soil health and partnered with farmers and companies in states like Nebraska, Iowa, and Ohio to increase soil health practices on farms. 
We are supportive of market based approaches that incentivize growers for ecosystems services generated from investing in soil health and other conservation best management practices. As an example, we are proud to contribute to the development of the Ag Technology and Environmental Stewardship Foundation to create a Pay-For-Performance model in Iowa that supports farmers, communities and the environment. 
We are a part of the Ecosystem Services Market Consortium, which is focused on providing a market – and value- to farmers for the environmental benefits they create on their farm.