Sustainable Seaweed
Red Seaweed Promise™ - leading the industry towards a thriving red seaweed sector for generations to come.
To help ensure a long-term sustainable red seaweed supply chain, Cargill has launched the Red Seaweed Promise™. The program is specifically designed to address key sustainability challenges for the harvesting and cultivation of red seaweed, while enhancing producer livelihoods, supporting local communities and conserving the marine environment. Red seaweed is the raw material needed to produce carrageenan, a texturizer used in various applications such as dairy, confectionary and personal care products.

The program also answers food industry and consumers' needs for more sustainable food ingredients, with a commitment to source 60 percent sustainable red seaweed by 2025.
Sustainable Seaweed Commitment
It is our ambition to enable seaweed producers and their communities to achieve better incomes and living standards in a way that will accelerate progress towards a sustainable and transparent global seaweed supply chain by focusing our investments and efforts across three priority areas.
Empower Producers
We are committed across our supply chains to providing training on sustainable practices and improve access to markets. To this end we aim to provide training and tools to support responsible and resilient seaweed production.*
Community Prosperity
Key to the future sustainability of the red seaweed sector is the strengthening of seaweed producers' communities and promoting gender equality.
Marine Conservation
Enhancing the marine habitats where seaweed is sourced and promoting plastic circularity (floats and ropes) in the production of seaweed are fundamental.
How we deliver sustainability
Continuous improvement
Programs delivered by The Nature Conservancy, Coast 4C and suppliers.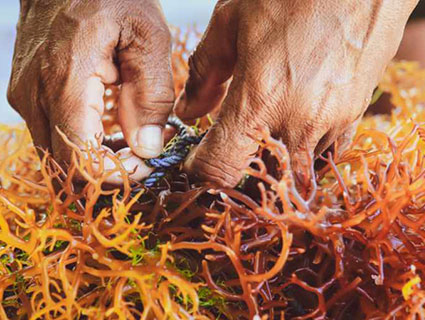 Carrageenan
Carrageenan are water soluble polysaccharides extracted from red seaweeds with thickening, stabilizing and gelling properties.
[EMEA]/[]