Cargill Cocoa Promise
Our ambition for a thriving cocoa sector for generations to come
Our commitment, the Cargill Cocoa Promise, was launched in 2012 and is making a real and lasting difference to farmers and their communities across five origin countries – Côte d'Ivoire, Cameroon, Indonesia, Ghana, and Brazil.
For full information about our approach, progress and clear direction towards 2020, download the 2015 Cargill Cocoa Promise global report, in full or in sections.
Our aim is to accelerate progress towards a transparent global cocoa supply chain, enable farmers and their communities to achieve better incomes and living standards, and deliver a sustainable supply of cocoa and chocolate products.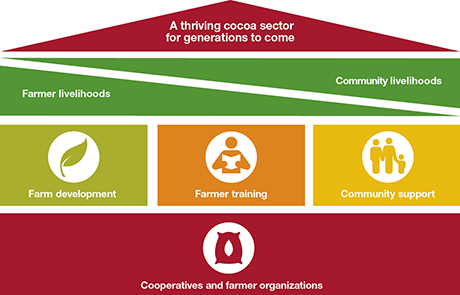 We focus on professionalizing cooperatives as we believe professional farmers' organizations are needed to be a lever for improved farmer and community livelihoods. We support farmer organizations in achieving progress in farmer training, farm development, and community support. Working closely with our stakeholders and partners is crucial to our success.

Our sustainability strategy is intertwined with our business strategy. We continuously work on embedding sustainability in decision-making on all levels within our organization.
Cargill Cocoa Promise principles
Work closely with cooperatives and farmer organizations
Leverage funds through Public Private Partnerships
Aim for farmers and communities to become self-sufficient
Measure the impact of our work
What this means for our stakeholders
For farmers, focusing on real results demonstrates that we mean business when we say we want to support them in improving their livelihoods. They know our programs prioritize their needs and lead to higher incomes, improved living standards and a sustainable future in cocoa farming.
For our customers, the Cargill Cocoa Promise supports value chain transparency and makes it easier to measure the true return on investment our programs deliver for them. Our Cargill Cocoa Promise also helps customers to build their brand value, and to achieve their own sustainability goals, demonstrate tangible progress, and increase the impact of their contributions.
For NGOs, governments and other organizations we partner with to design and run our programs, the Cargill Cocoa Promise clearly demonstrates the longer-term results we are aiming to achieve and how we intend to get there.