Cocoa Certification
A powerful tool for positive change and transparency
There is far more to certification than just a label. Certified cocoa is integral to building a stronger, more transparent cocoa supply chain. It enables our customers to build trust with their consumers and provides credible information about the origin of ingredients.
Certification schemes are also fundamental to the success of the Cargill Cocoa Promise: providing internationally recognized and independent standards for sustainable production.
What is a certification scheme?
Over the past 20 years, three major independent certification schemes have been established, each with a similar aim: to provide increased transparency and responsibility in cocoa supply chains.
Certification schemes set out economical, environmental and social standards, which help farmers to improve farming practices.
They aim to improve standards in the cocoa industry and are third-party verified.
They ensure farmers are achieving standards through regular audits of farmer organizations.
Via their labels, they signal to the consumer that a product has been responsibly produced.
The three trusted independent certification schemes for cocoa sustainability are Fairtrade, Rainforest Alliance Certified and UTZ Certified.
Are they worthwhile?
Over 10 years of experience has taught that certification schemes are worthwhile for two main reasons:
They reward farmers and farmer organizations with premium payments. These provide an incentive for farmers to attend training and switch to more sustainable farming practices, and increase investment in farms and farmer organizations.
They provide internationally recognized and independent standards for sustainable production. This means that they offer a clear and credible framework for sourcing cocoa more sustainably.
The benefits of certification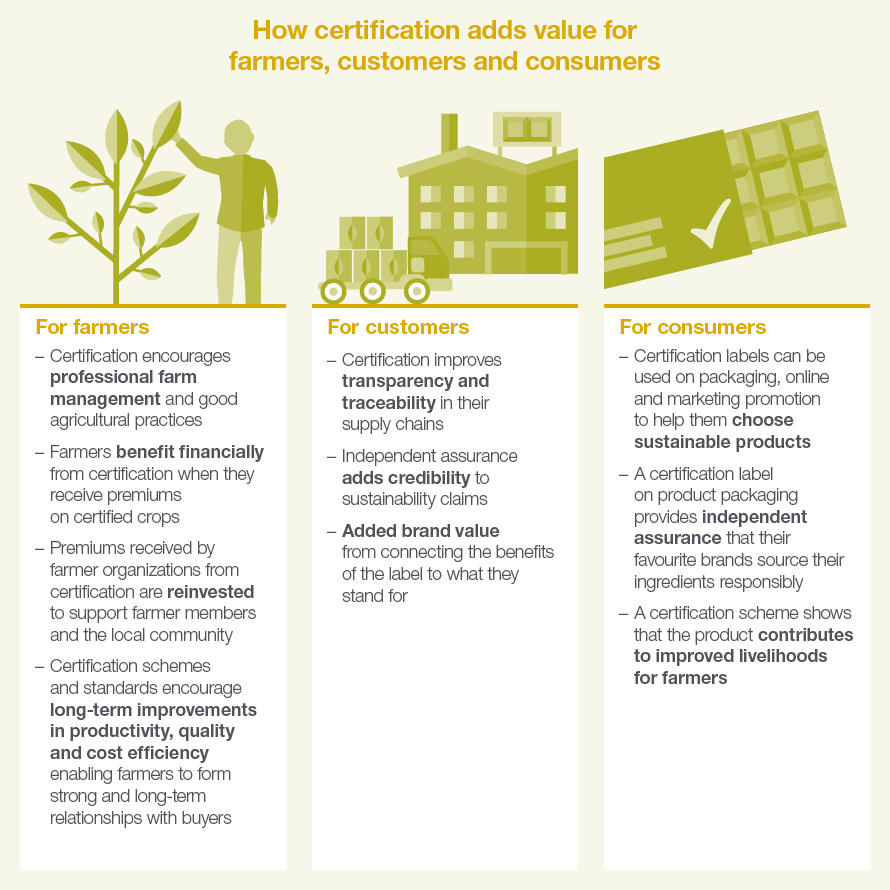 Being transparent about where the money goes
Ultimately, we – and our customers – want to know that our programs make a difference in the field. To do this, we are continuously improving our ability to measure the performance of our programs and the positive results that they deliver.
Because of the strength of our relationships with farmer organizations, we can provide evern more accurate information about where and how premiums are spent. We can also target investments more precisely to ensure they make a difference where it is needed most.
In 2016, via the Cargill Cocoa Promise, US$35 million in premiums were paid to farmers via cooperatives across Ghana, Côte d'Ivoire, Indonesia, Cameroon and Brazil.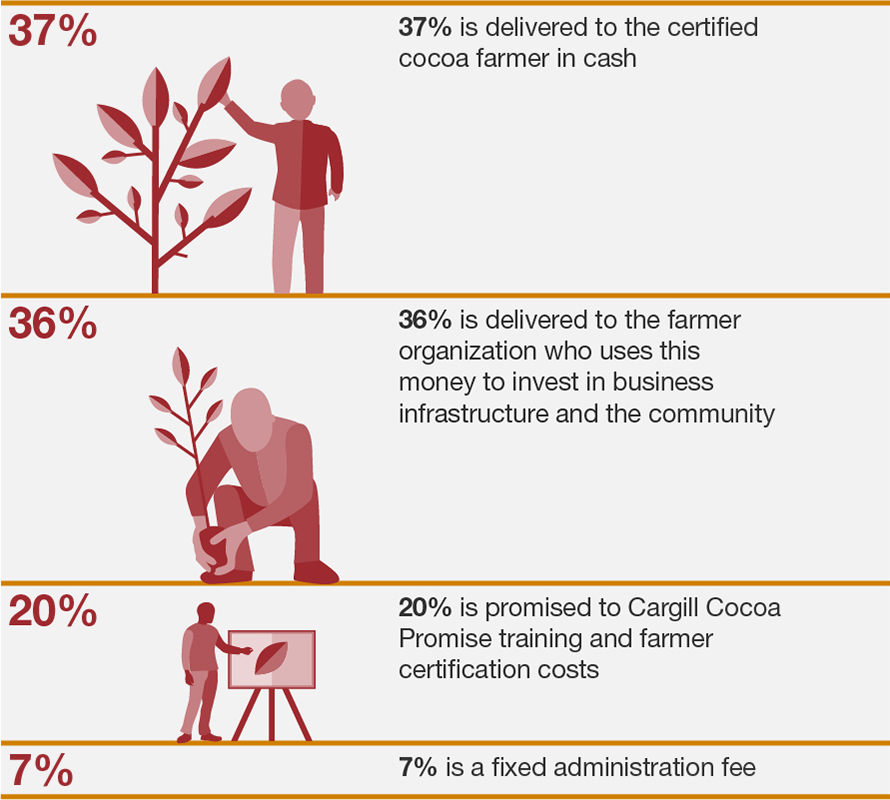 How do cooperatives invest certification premiums?
In Côte d'Ivoire, 22% of certification premiums were distributed for farmer services, 51% were invested for strengthening cooperatives infrastructure, 11% for community projects, and 12% for administration and governance. The remaining 4% has been distributed for other services such as bonuses and employee incentives and community gifts.

Data highlights
US$35 million paid to over 100,000 farmers and farmer organizations in certification premiums globally.
30,000 more farmers will receive training and support to achieve certification globally beyond 2018.