Farmer Organizations
Our long-standing partnerships with farmer organizations support many thousands of farmers while strengthening our direct sourcing.
As a global company, we source cocoa from more than 400,000 farmers across five origin countries, predominantly smallholders. Across many cocoa-growing countries, cocoa farmers tend to aggregate into farmer organizations as a way to organize themselves and make better use of shared knowledge, opportunities and resources. These organizations, which include farmer cooperatives and less formal farmer groups, differ in form and function depending on the country and context in which they are operating. Over the past two decades, our work with farmer organizations and cooperatives has enabled us to reach many more of these farmers and their communities than we could have done working alone, while significantly strengthening our direct sourcing networks.
Why farmer organizations are important
Business-oriented farmer organizations and cooperatives make vital contributions to the present and future prosperity of farmers and their communities. They are also crucial in enabling us to achieve our sustainability goals. Farmer organizations are the lever for improved farmer and community livelihoods and provide the starting point for interventions in farmer training, farm development and community support.
Farmer organizations offer a myriad of benefits to farmers – from improving access to markets and flexible finance, to promoting certification and providing training and tools to improve agricultural practices. For Cargill and its customers, the benefits we gain through our long-term relationships with farmer organizations set us apart in our ability to track the beans we buy at the farm level and drive positive change.
Our approach to working with farmer organizations
Farmer organizations take on many different forms and stages of maturity depending on the country and the preference of farmers involved. We have supported 195 farmer organizations across Ghana, Côte d'Ivoire, Cameroon, Indonesia and Brazil since 2015. Our focus has been on strengthening their internal capabilities so that they can become more professional, self-sustaining and capable of delivering progress in the communities they serve. We are learning from our experience and from best practice in different countries to scale up our impact globally. Today, when it comes to delivering a more transparent and traceable cocoa supply chain, we believe aggregation through farmer organizations is more relevant than ever – with benefits ranging the adoption of new technologies such as mobile banking to promoting the uptake of certification.
85% of our sustainable cocoa, and 70% of all our cocoa is sourced through our direct sourcing network, which means we can trace it back to the farmer organization or certificate holder we bought it from.
What makes a successful farmer organization?
We want farmer organizations to become successful businesses in their own right – run by empowered men and women. We will know we have succeeded when they are ready to run their businesses and support their communities independently, with minimal or no support from us.
Our work with SCOPEInsight is helping to track the progress we are making. We assess farmer organizations against a number of criteria:
Internal management: governance, internal organization, business planning.
Operations: logistics, storage, Good Agricultural Practices, processing.
Financial management: management, planning, budgeting.
Sustainability: social, environmental.
Market: clients, market risk, marketing.
External risks: biological, environmental, weather.
Enablers: capacity builders, government, service providers.
Supply: input suppliers, security of supply, members/outgrowers.
Empowering cooperatives
To stimulate professionalization, we encourage farmer organizations to participate in the Cargill Coop Academy. Launched in Côte d'Ivoire in 2013, the Academy provides a mini-MBA program designed to help professionalize the way cooperatives are run. So far, 320 leaders from 80 cooperatives in Côte d'Ivoire have chosen to participate in the program, as well as 240 leaders from 60 cooperatives in Cameroon. Research undertaken by SCOPEInsight in Côte d'Ivoire in 2017 found that, of 78 cooperatives that have been assessed so far, 36% can now be considered professional compared to 6% before they took part in the program.
The success of the Coop Academy has also paved the way for other practical solutions such as Doni Doni, a credit facility in Côte d'Ivoire that allows cooperatives to lease collection trucks. A second credit facility that provides cooperatives with approved, high-quality crop protection products is proving equally as successful and we are now looking to implement the scheme in Ghana, Cameroon and Indonesia. Without our relationships with farmer organizations, it would have been impossible to offer such support to these farmers.
Investing through certification
Certification schemes are integral to our approach. They provide internationally recognized and independent standards for sustainable production – in effect, a clear and credible framework for sourcing cocoa more sustainably. Premiums received by farmer organizations from certification are in turn reinvested in projects to boost productivity, farm development and benefit the community.
On average, our programs pass close to 70% of certification premium payments directly back to farmers and farm organizations. The remaining 30% is invested in programs that also benefit farmers, but in more indirect ways – for example, farmer training and coaching.
We track in full detail how these premiums are distributed and how farmer organizations decide to invest their funds. In 2016, via the Cargill Cocoa Promise, US$35 million in premiums were paid to farmers via cooperatives across Ghana, Côte d'Ivoire, Indonesia, Cameroon and Brazil. In Côte d'Ivoire 22% has been distributed for farmer services, 51% was invested for strengthening cooperative infrastructure, 11% for community projects, and 12% for administration and governance. The remaining 4% has been distributed for other services such as bonuses and employee incentives, and community gifts including calculators and chairs.
Progress and highlights
99% of our cocoa purchased in Côte d'Ivoire was directly sourced through cooperatives, up from 96% the previous year

560 farmers from 477 farmer organizations have participated in the Cargill Coop Academy in Côte d'Ivoire and Cameroon

36% of cooperatives are now rated as professional, compared with just 6% before they attended the Coop Academy in Côte d'Ivoire

24% increase in cocoa bought by Cargill Cocoa & Chocolate that is certified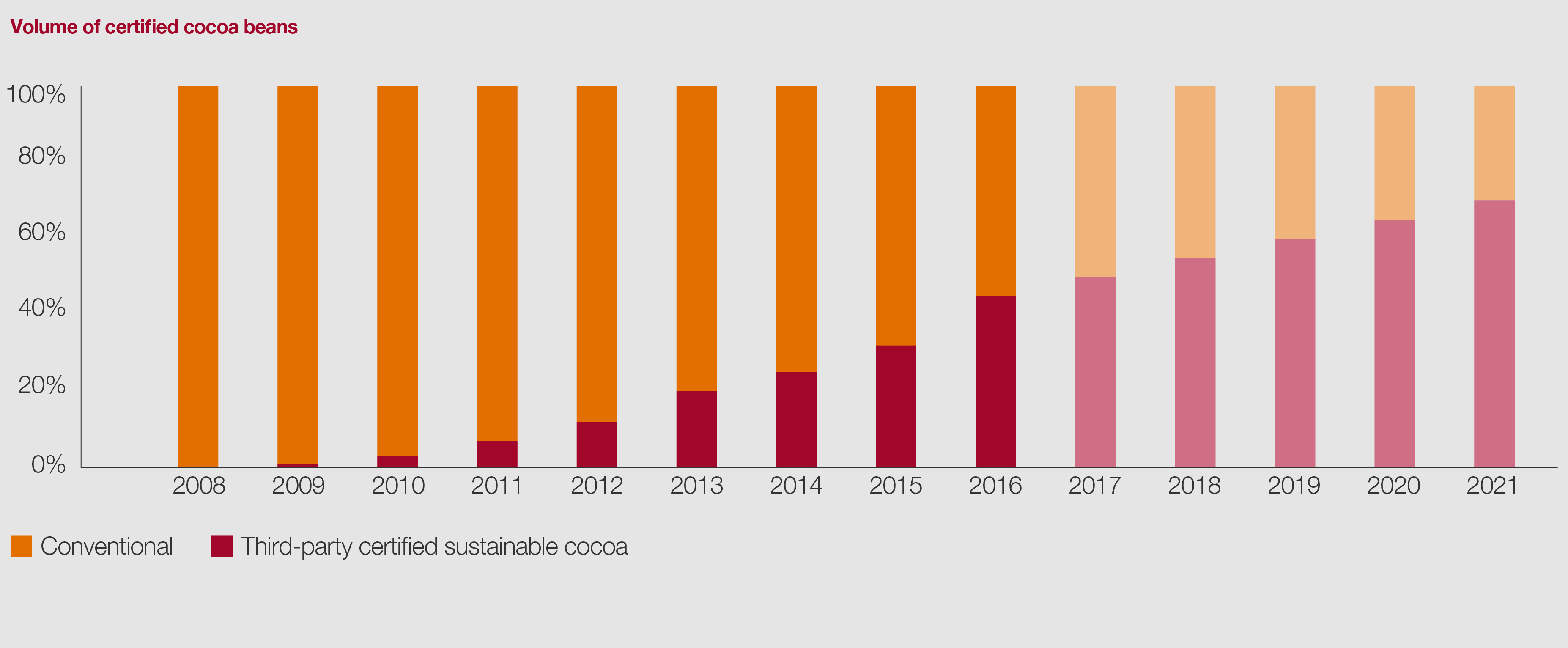 US$35 million paid to over 100,000 farmers and farmer organizations in certification premiums globally
Farmer organizations around the world
Our first aggregation-based sourcing model started in Côte d'Ivoire. Today, it includes more than 100 cocoa cooperatives that supply 99% of our directly sourced cocoa. In Cameroon, we work with 60 farmer organizations and we introduced our Coop Academy program here in 2016.
In Ghana, the shift towards farmer organizations has been more recent and has been underpinned by government policy. Here, we are designing a small-scale cooperative scheme to support the foundation of our new 100% e-money-led business model, which benefits farmers through improved financial inclusion and will significantly increase transparency in the supply chain.
In Indonesia, thanks to the support of Swisscontact, the direction we have taken is to organize small Cocoa Producers Groups with the aim of enhancing the administration and certification of cocoa crops. There are now 525 Farmer Groups in Indonesia. Through this aggregation, farmers are able to share expertise and to sell their crop under optimum conditions.
Making farmer organizations more diverse and inclusive
We want to make farmer organizations more diverse and inclusive. The limited participation of women and young adults in farmer organizations restricts their ability to play a bigger role on farms or in local communities as income generators, organizers and leaders. It also deprives farmer organizations of a wealth of untapped talent. Attracting young adults to cocoa farming is vital to ensure a reliable supply of cocoa for future generations. We have introduced a diversity module into our Coop Academy program and are working with the World Cocoa Foundation to bring productivity training to 1,000 women and 7,000 of their family members in Côte d'Ivoire.
Looking ahead
Our new goal for 2030 is to enable farmers we source from to benefit from professional farmer organizations, as we see this as a key pathway to long-term cocoa sustainability and a more efficient and sustainable supply chain in the regions we source from. To achieve it, we intend to:
leverage our experience in Côte d'Ivoire to build effective sourcing models in Ghana and Cameroon
replicate the success of the e-money-led business model in Ghana by accelerating our work in Côte d'Ivoire
work with farmer organizations through the Coop Academy to introduce a professional management system that will be fully owned and handled by the cooperatives
Around 200 more cooperatives will benefit from involvement in the Coop Academy across Côte d'Ivoire and Cameroon by 2018.

30,000 more farmers will receive training and support to achieve certification globally beyond 2018.

Extend the provision of affordable credit to farmers and cooperatives, building on the success and lessons of the Doni Doni program (see case study) in Côte d'Ivoire.