RHEMCORR™ Flow Enhancer
Bringing efficiency to your adhesive
RHEMCORR™ is a rheology modifier (flow enhancer) used to create a new starch-based corrugating adhesive, allowing adhesive consumption to be reduced while maintaining bond quality.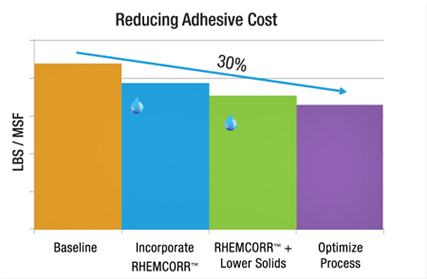 Lower energy use
Less adhesive slinging reducing clean-up and runnability problems
Higher quality board due to less warp and wash boarding
Less combined-board waste due to less warp and delamination
Increased productivity due to less down time and flatter board
RHEMCORR™ modified adhesive promotes superior bonding while at the same time reducing adhesive application.
Due to strong hydrophilic properties imparted by the rheology modifier, the RHEMCORR™ adhesive more tightly binds water and this enables more of the starch at the flute tip to gelantinize, thereby maintaining bond strength as adhesive amount is reduced.
The RHEMCORR™ rheology modified adhesive maintains its consistency especially in the dynamic corrugating environment. This consistency results in reduced adhesive spreading down the flute flank where it does not contribute to bond performance.
RHEMCORR™ is available in a convenient liquid form. Just program it in for a fully automated addition to your starch formulation. You can rely on a stable, consistent dispersion into your adhesive.

The products and services described on this website may not be available in all jurisdictions or to all persons.