Polyamide and polyimide
Our dimer diol can be used in polyamide or COPA:
Pripol™ bio-based* dimer fatty acids and dimer diols
This product range has been designed to enhance performance properties such as improved flexibility, excellent water barrier protection, low and stable color, enhanced melt flow and improved multi-substrate adhesion, as well as carbon footprint improvements and in-use sustainability benefits.
Pripol™ dimer fatty acids and dimer diols are especially useful in highly demanding applications such as transportation, electronics, sportswear and food packaging. Dimer modification can also reduce polymer density, perfect for light-weight applications.
Priplast™
Priplast™ polyester polyols offer unique proprieties to copolyamide (COPA) elastomers. They range from soft to semi-rigid products offering good thermo-oxidative stability and hydrolysis resistance and outperform conventional polyols.

The benefits of these polyester polyols include water resistance, a wide window of application temperatures and enhanced melt flow.
These materials are high-end block copolymers and find use in heavy-duty sports, automotive, electronic cabling and tubing applications.
Priamine™
Priamine™ provides polyamides with flexibility, reduced melt viscosity for enhanced mold flow and improved adhesion. The low moisture absorption reduces strength variations and brings improved dimensional stability. Priamine™ can also be built in as a tough, segmented block-copolymer. Using it in this way means that the rigidity (high Tg) of the hard matrix can be maintained.
Excellent Mechanical Properties in Polyamide Plastics: Nylon 6 'modified' with C44 Dimer versus C36 Dimer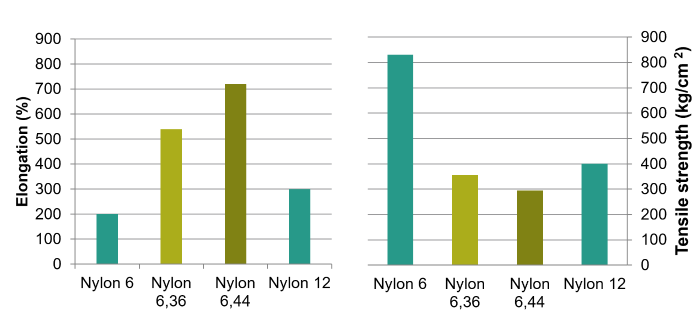 Modifying the Nylon 6 with dimer gives Nylon 12- like properties of high elongation with good tensile strength.
Polyimide
Priamine™ 1075 dimer diamine: this product has been selected for use in high performance polyimides due to its high purity, high difunctionality and low color. This low viscosity material allows producers to reduce the use of expensive solvents during processing.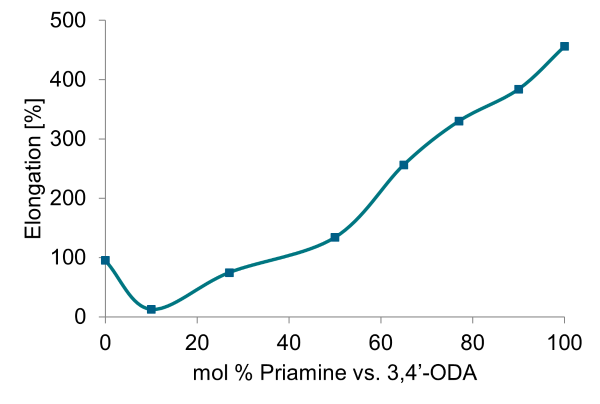 *ASTM D6866