Industrial, Marine and Protective Coatings
There is an increasing pressure on environmental friendlier formulations in combination with higher performance requirements. Our technologies offer a combination of the two.
In industrial coating applications like concrete flooring and direct-to-metal constructions, protective and long-lasting properties such as excellent chemical resistance and mechanical properties are required under sometimes tough conditions.
Our extensive range of bio-based* dimers are available in a range of functionalities such as Pripol™ acid and alcohol, and Priamine™ amine, that offer many performance properties to coating systems. Some of these include moisture barrier protection, chemical resistance, hydrolytic stability, and good thermo-oxidative stability.
Our Priplast™ range of polyester polyols offers the coating formulator a solution to enhance performance properties, impart flexibility and to improve the coating's environmental profile. The polyol can be built into the polyurethane by reacting with isocyanates.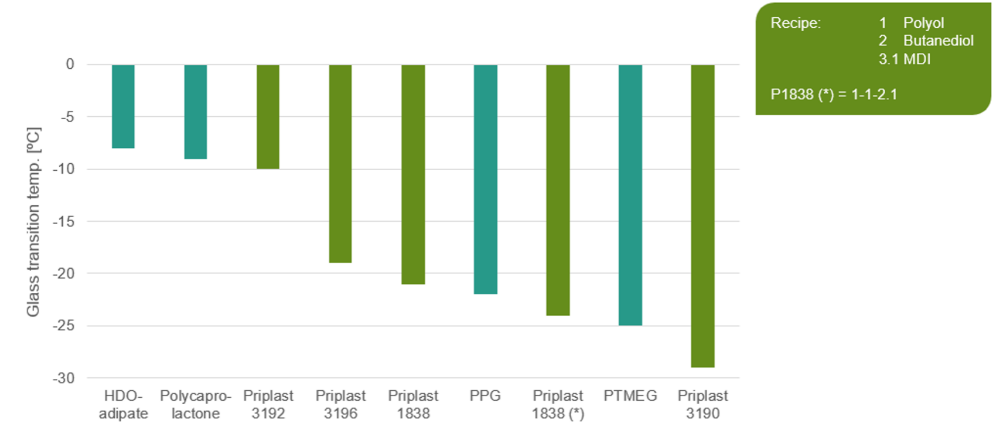 Priplast™ bio-based products bring flexibility at low temperatures. The test was made on glass transition temp. [°C].
Low Tg of Polyurethanes
Priplast™ bio-based products bring flexibility at low temperatures. The test was made on Glass transition temp. [°C].
Priplast™ technology offers many unique benefits to polyurethane coatings. For example, Priplast™ polyol increases durability in end products, increases moisture repellency of the final coat, helps with adhesion to a wide range of substrates and provides good chemical resistance to moisture, alkali or acid.
Extremely fire-resistance aviation hydraulic fluid resistance with Priplast™ F4
For this test we used fire-resistant aviation hydraulic fluid product range well known for being very aggressive on coatings, currently specified by many aircraft and airspace companies.

The hydraulic fluid was applied to the panels at ~1mL, covered with watch glasses and allowed to set for 24 hours, then removed and washed.
Our B-Tough™ C reactive epoxy functional toughening agent helps you to formulate no stress and if also required VOC free epoxy coatings with enhanced flexibility while hardness is maintained. This so-called impact and crack resistance extends the end-product lifetime hence reduces maintenance costs and out of service time.
Flexibility and impact resistance in pigmented systems with B-Tough™ C2r product
B-Tough™ C2r provides both benefits: flexibility and impact resistance.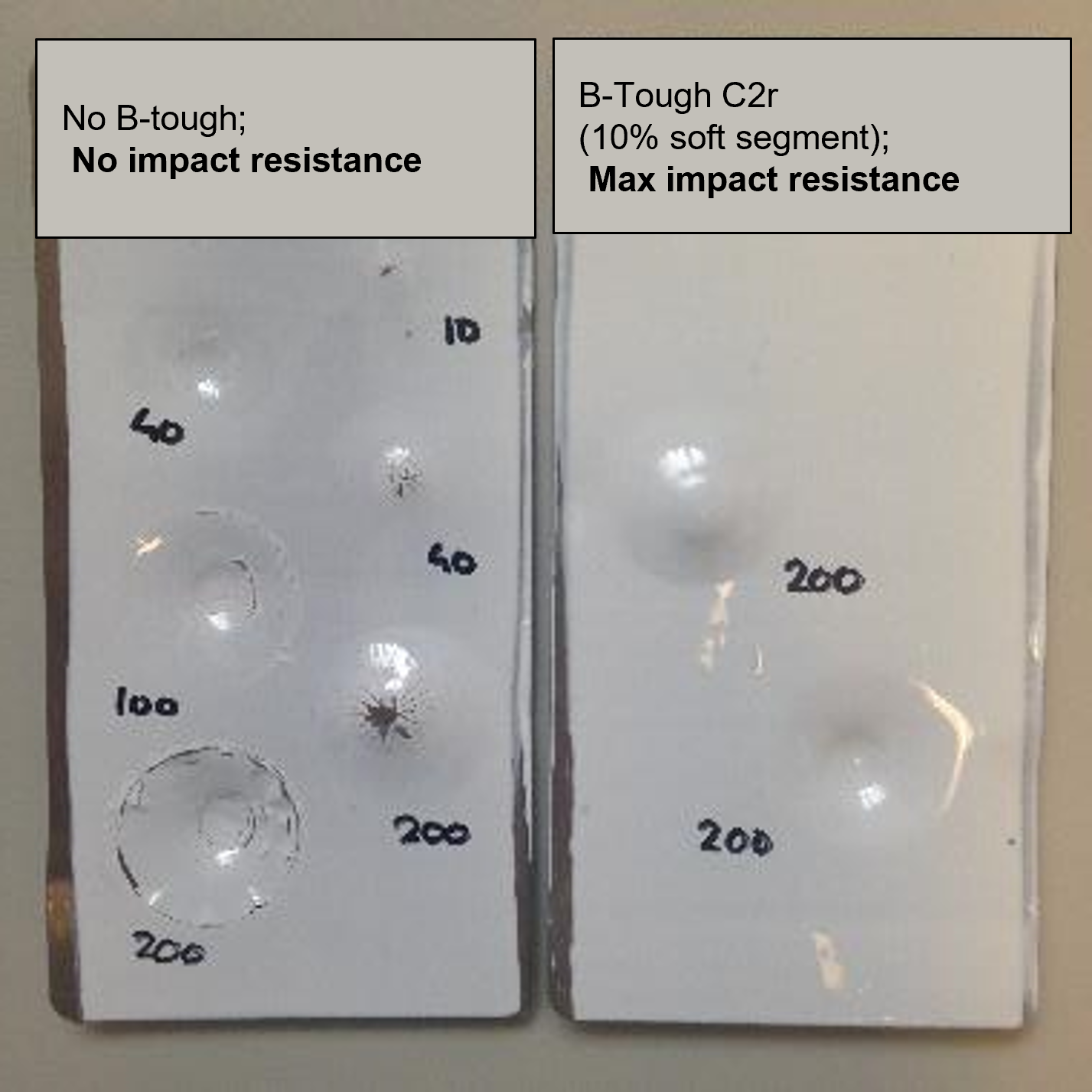 Test conditions: PVC = 23%, 150 µm, cured 1 week at 25°C; solvent free system