Anti-static
Most plastic materials are electrical insulators and can support high static build up. Static is produced by charge separation caused by the movement of one material over another.
This can result in issues including handling and contamination issues during transport, storage and packaging. Additionally, dust attracting affecting looks and performance, the risk of electrostatic discharge damaging electronic components, and electrical discharge causing shocks to employees and risking fire.
Anti-static additives are added to polymers to provide static protection by lowering the resistivity of the material. Different anti-static additives can be used, depending on the level of static protection needed and how long the anti-static effect needs to last.
Permanent anti-static additives
The Cargill Ionphase™ range of inherently dissipative polymers (IDPs), also known as ion conductive polymers, reduce the resistivity of polymers providing control and safety for static related issues. They can be added to plastics during compounding, extrusion or injection molding.
These non-migrating additives do not move or migrate through or out of the polymer and work by using a co-continuous ion conductive polymer phase. Ions acting as charge carriers within the additive will dissipate the static field.
Choosing these additives offers benefits. Some of these include immediate and permanent effects, humidity independence, uniform distribution to avoid hotspots, minimal change to the host polymer, compatibility with the host polymer and excellent processability.
Short & medium term anti-static additives
Our Atmer™ range of short and medium term anti-static additives are also known as migrating anti-static additives. They are used in applications such as food and cosmetic packaging, where anti-static performance is required for up to 12 months. They can be added to plastics as a masterbatch, during compounding or directly during extrusion to reduce electrostatic attraction in polymers.
We also have concentrates available that are easier to dose and have a similar melting point to the polymer. Short- and medium-term additives work by migrating through the polymer matrix towards the surface as it cools. At the surface they pick up moisture from the atmosphere, resulting in reduce static build up in the plastic.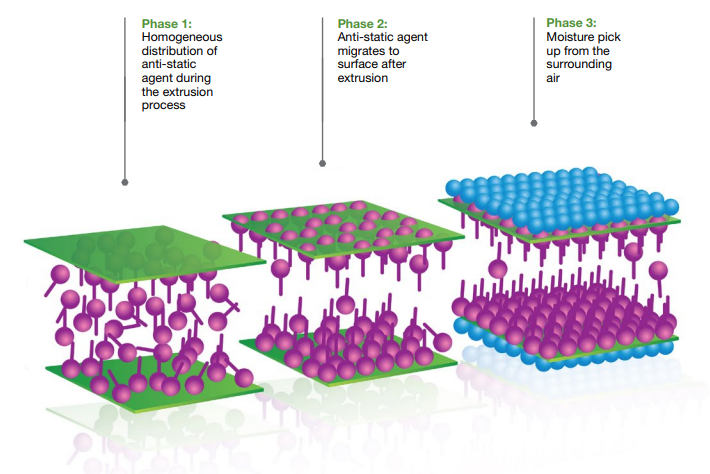 Atmer™ brings benefits like low addition levels, no adverse effect on clarity or mechanical properties, and it is cost effective.