Structural Adhesives
Our range of high-performance ingredients provides durability opportunities and improved adhesion to a wide variety of substrates such as plastics, aluminum and composites used in structural adhesives applications. This allows manufacturers to currently replace materials with adhesives for long lasting benefits like: 
Low temperature flexibility and high temperature resistance; due to low Tg and high flexibility in combination with intrinsic resistance against heat aging 
Durability: a unique combination of thermo-oxidative and hydrolysis resistance 
Moisture repellency of the final adhesive, also achieved for PU dispersions 
Adhesion to a wide range of substrates, including low-polarity plastics  
Good chemical resistance 
Adhesion to various substrates – Plastic & Steel
Moisture cured PU: high strength to hard, smooth and flexible plastics
Priplast™ amorphous (1838) and semi-crystalline (3192) grades bring high bonding strength.
Polyamide-6 Polystyrene

Lap shear adhesion; ISO 4587 | SF = substrate failure | NB = no break
We also offer 100% bio-based* alternatives: Priplast 3238 (amorphous) and a new Priplast 3294 (semi-crystalline).
Moisture cured PU: polar metal substrate but good adhesion
Priplast™ for good adhesion to dissimilar materials: various plastics or fiber-reinforced plastics as well as metal.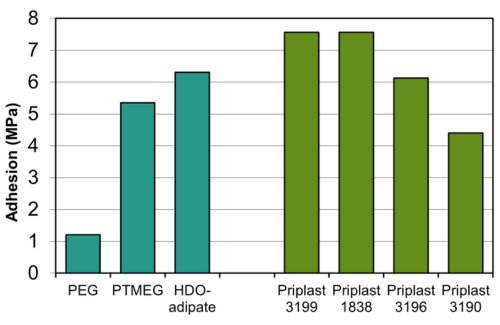 Lap shear adhesion; ISO 4587
High-Impact Strength for Epoxy Adhesive
Epoxy structural adhesives are well-known for offering excellent bonding strength, replace mechanical fastening and welding​ and high chemical and heat resistance​. However, wouldn't it be nice to have improved impact resistance maintain the hardness?​
B-Tough™ A2 increases toughness and maintain hardness (Shore A 82-84-87).