Anti-block
Blocking in polymer films describes the adhesion of two polymer surfaces to one another, resulting in difficulty in separating the films. ​
Anti-blocking additives reduce blocking at the surface of polymer films and other plastic articles to allow easier processing and handling. Traditional inorganic anti-blocking additives, such as silica or talc, work by reducing polymer to polymer contact and micro-roughening of the surface, but often affect the clarity of the polymer at higher addition levels.​
The Cargill range of bio-based* anti-blocking additives offer an effective and sustainable way to reducing the problem of blocking in polymer films. Added at low addition levels they migrate to the surface to reduce the coefficient of friction of the polymer, providing optimized blocking performance without impacting the clarity of the film. ​
Optislip™ – Optimum slip and anti-blocking performance ​
Cargill offers a range of primary saturated amides and secondary bis-amides that provide anti-blocking properties to polyolefin films. ​
These additives are particularly useful when combined with traditional inorganic anti-blocking additives and can offer a synergistic effect. ​
Most Optislip™ additives will improve blocking when used in combination with inorganic materials. Optislip™ BR is the most effective, migrating to form a continuous non-sticking layer. This allows lower levels of inorganic anti-blocking agent to be used, resulting in improved clarity. ​
Optislip™ BR can be used in combination with Optislip™ ER, without increasing the total amide level, to give combined slip and anti-block performance.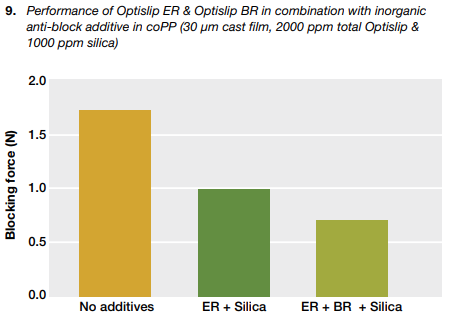 As a specialty polymer additives company, achieving tailored anti-block performance via the optimization of product combinations has become one of our technical strengths. ​
By understanding additives at the molecular level, from the seed growing stage onwards, Cargill offers a superior range of primary saturated and unsaturated amides, and bis-amides with precisely controlled anti-blocking functionality.
*ASTM D6866