Slip
Slip or surface friction, expressed as Coefficient of Friction or CoF, measures the interaction between two polymer surfaces or between the polymer surface and processing equipment.
High friction can result in difficulties with the processing of thin film, winding of film rolls, bag production and packaging operations.
Slip additives are products which can be added to polymers to control friction. They are added directly into the polymer during the extrusion process and migrate to the surface as the polymer cools, allowing a solid lubricating layer to form.
Cargill provides a wide range of slip additives in many different physical forms and can offer guidance on the right additive and dosage level to ensure the controlled level of slip required for your application and needs.
Optislip™ – Slip
The Optislip range of amides can be incorporated directly into the polymer during the extrusion process. They work by migrating to the surface as the polymer cools forming a solid lubricating layer at the surface. This acts to lower the coefficient of friction (CoF) or adhesion between contacting polymer surfaces and the polymer and other materials.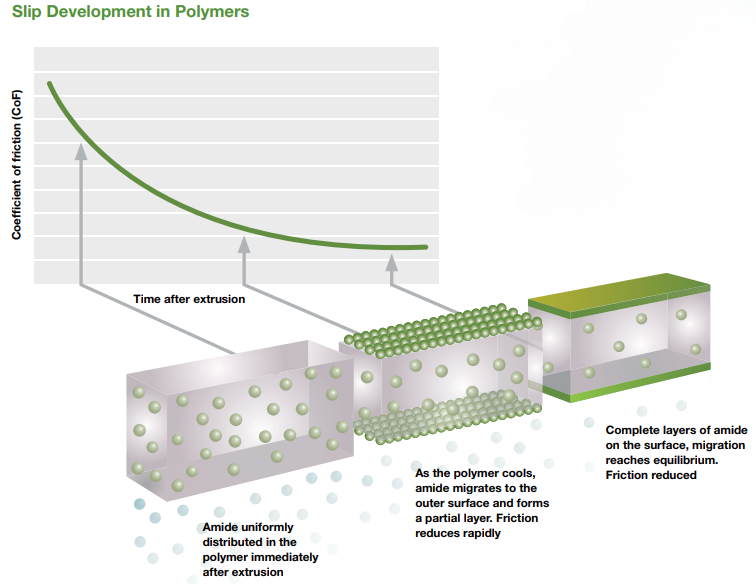 As a specialty polymer additives company, achieving tailored slip performance via the optimization of product combinations has become one of our technical strengths. By understanding additives at the molecular level, Cargill offers a superior range of primary amides, secondary amides and secondary bis-amides with precisely controlled functionality.
Incroslip™ – the ultimate in high performance and stability
Incroslip™ additives are a market leading range of innovative, high stability solutions delivering slip, and other benefits to polyolefins even in the most challenging applications. Incroslip™ additives are manufactured using a proprietary process to ensure the highest level of stability. They can be used in many applications where high stability, long-term performance and excellent customer experience is desired.
Contact us Download Optislip™ brochure Download Incroslip™ brochure