Plant-based foods & beverages are all the rage today with vegan reformulation moving beyond the typical categories of dairy and meat. Product developers are now being challenged to create plant-based options in sweet categories such as confectionery too.
Creating a vegan double-layered sugar confectionery product that delivers on texture and mouthfeel, without impacting the manufacturing process can be challenging though. Gelatin provides two very important functionalities in these types of sugar confectionery products: texturizing/ gelling and aeration/ foam creation.
INFUSE can help you overcome these challenges by employing a multiple ingredient approach, leveraging our broad Cargill building blocks of plant proteins, starches, and texturizers, and through effective formulation fine-tuning. Our specifically designed blends help you deliver high quality confectionery products without impacting manufacturing processes.
Answering consumer demand for plant-based confectionery
Most exciting of all our development work is the concept for a deposited double layered vegan jelly/marshmallow as the double layered product poses a double challenge as the texture is radically different. So to replace gelatin in the two confectionery components required applying two types of alternative ingredients, which we carefully blended into our Lygomme® PM 600 – an ingredient solution of pectin and pea protein designed to achieve full gelatin replacement with label-friendly ingredients.
Our solution helps to create a soft first bite and softer texture surprising consumer's palates, while ensuring a nice fruity flavor release. Our blended solution offers ease of use and processing efficiencies as no drying step is needed.
Important to note is that the work in gummies and jellies is transferable to partial gelatin replacement. These two segments are the standard bearers for this field, so trimming back on gelatin can also reduce the cost in use of an entire product matrix.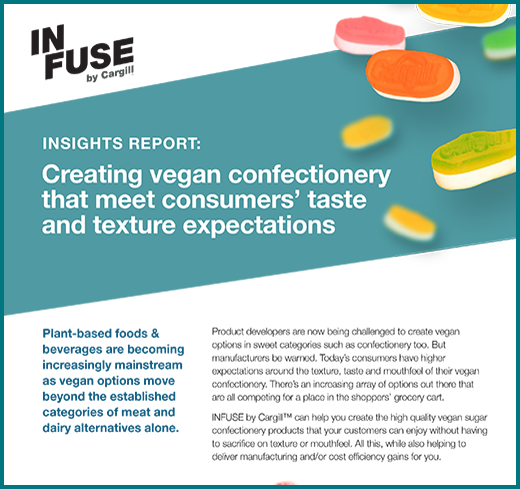 Plant-based Sugar Confectionery insights & solutions
To discover how INFUSE is taking Plant-based Sugar Confectionery further, download our latest Insights Report, Product leaflet and brochure.