Plant-based & free from dairy formulation
A big trend that the traditional dairy industry has had little choice but to meet relates to creating non-dairy alternatives based on plant proteins rather than dairy.
But creating a product that offers the organoleptic properties that consumers expect is easier said than done, as dairy proteins fulfill several functionalities within a product, and interact differently with other ingredients. In order to be able to translate dairy into non-dairy, you therefore really need to understand the proteins.
Our solutions
INFUSE has great solutions based on pea proteins and coconut milk and fats. Leveraging our portfolio of pea proteins, which are characterized by high quality protein content and mild flavor profile, we ensure formulations with consumer desired plant proteins.

However, as pea proteins do not bring a lot of texture in themselves, we leverage our broad functional knowledge in formulating with texturizers & specialty ingredients such as pectin, carrageenan and starch to achieve a similar product and consistency.

We can help you design plant-based dairy products with creamy texture, indulgent mouthfeel and balanced nutritional profiles that are easy to process.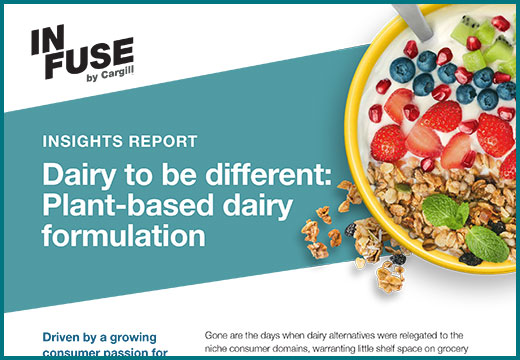 Plant-based Dairy Formulation insights & solutions
Driven by a growing consumer passion for balanced nutrition, sustainability and animal welfare, the market for plant-based dairy alternatives is expanding rapidly.