The label-friendly trend is accelerating in bakery, as consumers seek out bakery products containing familiar ingredients, with short ingredient lists. As a result, bakery manufacturers are under pressure to reformulate by adopting plant-derived ingredients with strong functionality. Lecithin has been an essential ingredient in manufacturers' toolkits for almost 100 years. Not surprising as this plant-derived, versatile, label-friendly emulsifier seems to do it all. Lecithin is composed of phospholipids, which hold the secret to its extensive functionality. Phospholipids first attract oil and then water. This amphipathic property allows lecithin to create strong oil-in-water and water-in-oil emulsions. But its technical benefits go far further still.
With this in mind, INFUSE by Cargill™ technical experts have tested both de-oiled lecithin and lecithin on carrier (LOC) in a variety of bakery applications. The results show that these label-friendly solutions can compete with commonly used emulsifiers, in terms of performance and functionality while being cost conscious.
Our Solutions

| | | |
| --- | --- | --- |
| | | Lecimulthin® range: Our solutions of de-oiled lecithin that can help you meet the need for plant-based, label friendly emulsifiers. Our raw material sourcing capabilities result in a reliable supply of high-quality lecithin from a variety of botanical sources (Rapeseed, Sunflower and NGM Soy) to meet your labelling requirements. |
| | | |
| | | Emulthin® range: Our lecithin on carrier solution from rapeseed lecithin in powder format has been created using a unique spray cooling process to provide you the ease of handling in production and storage. |
| | | |
| | | Thanks to our technology we can create and tailor different solutions in concentration levels of lecithin, fat levels and powders (such as starch, texturizers, fibers) to meet your recipe and process needs. |
| | | |
| | | Cargill IY 34, vegetable fat: A unique combination of cocoa butter, sunflower and rapeseed oils. Our product has been designed to ease dough handling and shaping performance. It supports the volume and structure of the Berliner doughnut while offering high oxidative stability, which in addition, also enables use for frying. |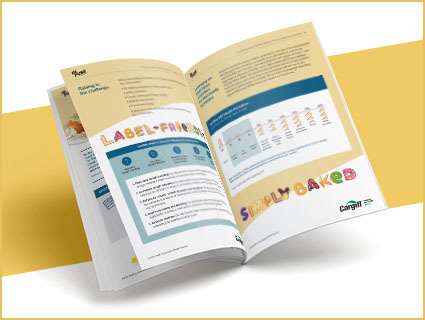 Simply baked technical whitepaper
Consumers today demand more from their bakery products and manufacturers must follow suit to meet today's and tomorrow's demands.
To learn more, download our Simply baked technical white paper