C☆iGum™
C☆iGum™ grades are our advanced starch-solutions for glue formulation. They are modified corn and wheat-based products designed for high-efficiency corrugated board production.
Cargill's Technical Team is geared up and ready to help customers identify the right product and setup for their individual corrugated board production process.
Benefits
Higher tack, bonding strength and production speed: during gelatinization, C☆iGum™ grades reach significantly higher viscosities compared to the native starches leading to superior initial tack, bonding strength and therefore higher production speed.
Smooth operations: the higher viscosity base level of gelatinized starch, obtained with C☆iGum™, improves the final glue stability leading to more constant gluing properties over time. Less machine adjustments are therefore required.
High glue efficiency: rheological characteristics allow a more precise glue dosage and better positioning on the flute tips, leading to reduced glue add-on and water intake. As a result, less drying energy is needed, and board quality is improved.
Cost saving: increased productivity in combination with improved process stability and outstanding glue performance may enable significant cost savings throughout the production process.
Product Range
TECHNICAL INFORMATION
Product
Raw Material
Viscosity / Stability
Initial Bond
Gel Point-temperature
Chemicals demand
C☆iGum™ 25800
Wheat
High
High
Low-medium
Low
C☆iGum™ 05800
Corn
High
Very High
Medium-high
Medium
Technical Highlights

Regulatory Status
| Product Range | NORDIC ECOLABELLING for printing papers* | BfR XXXVI Paper and board for food contact | FDA 21 CFR § 175.105, Adhesives and component of coatings | FDA 21 CFR § 178.3520, Industrial starch-modified |
| --- | --- | --- | --- | --- |
| C☆iGum™ 25800 | X | X | X | X |
| C☆iGum™ 05800 | X | X | X | X |
* ISO 14024 ss1
Applications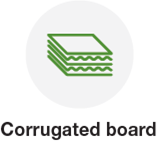 The Cargill Advantage
To support customer corporate sustainability commitments, Cargill can offer solutions produced from sustainably sourced raw materials that are benchmarked at Silver Level according to the Farm Sustainability Assessment (FSA).1
1. FSA is a standardized reference developed by SAI Platform, a food industry organization dedicated to advancing sustainable agriculture in the food chain. It's designed to help producers assess their sustainable practices and support manufacturers in sourcing sustainably grown products.